The President hosted the Summit on Financial Markets and the World Economy this past Friday and Saturday at the National Building Museum here in Washington, DC.
This is the first of a two-part note. Part one will describe the mechanics of the Summit and show some photos. Part two will describe the substance.
The action began in mid-October after the President met at Camp David with French President Nicolas Sarkozy and Manuel Barrosso, President of the European Commission: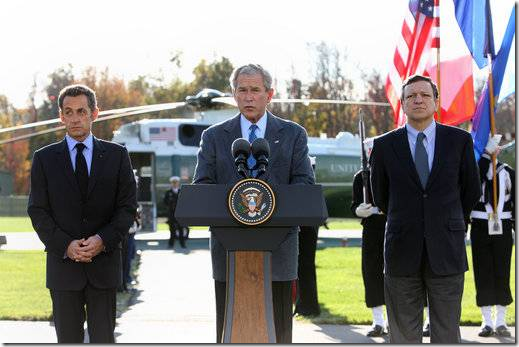 A statement released after that meeting included the following:
[The three leaders] agreed they would reach out to other world leaders next week with the idea of beginning a series of summits on addressing the challenges facing the global economy.

World leaders will be consulted about the idea of a first summit of heads of government to be held in the U.S. soon after the U.S. elections, in order to review progress being made to address the current crisis and to seek agreement on principles of reform needed to avoid a repetition and assure global prosperity in the future. Later summits would be designed to implement agreement on specific steps to be taken to meet those principles.
Four days later, we released a Statement by Press Secretary Dana Perino, which included the following:
Today, the President is inviting the leaders of the Group of 20 countries to a summit in the Washington, D.C. area, on November 15 to discuss financial markets and the global economy.

The G-20 members are: Argentina, Australia, Brazil, Canada, China, France, Germany, India, Indonesia, Italy, Japan, South Korea, Mexico, Russia, Saudi Arabia, South Africa, Turkey, the United Kingdom, the United States, and the European Union.

The Managing Director of the International Monetary Fund, the President of the World Bank, the United Nations Secretary-General, and the Chairman of the Financial Stability Forum have also been invited to participate.
Normally a summit like this takes at least a year to plan. The work of an incredible team from the Administration built an incredible summit in only 24 days.
As you can see, the G-20 actually includes 19 States, plus the European Union. The meeting also included the heads of the major international financial institutions (IFIs, pronounced "IF-ees"): the International Monetary Fund (IMF), the World Bank, the U.N. Secretary General, and the Financial Stability Forum. In addition, the final summit meeting included the heads of Spain and […]